Liverpool vs. Arsenal: Best Possible Combined Lineup
Liverpool will host Arsenal this Wednesday at Anfield and it ought to be a nail-biting clash as the two red jerseys will face off each other the second time this season. Last time, the Gunners managed a 0- 0 draw, but this time, the code won't remain the same to be cracked by the Gunners, as Liverpool will be playing under Jurgen Klopp this time.
Jurgen Klopp was surely the new managerial darling of the premier league when he arrived at Anfield, but steadily, the matters are declining from bad to worse, especially due to the mountain of injuries they are facing at this moment.
On the other hand, Arsène Wenger's men are looking forward to hold the first position till the season ends, thereby giving a serious title challenge.
Let us take a look at the best possible combined lineup:
FORMATION: 4-1-4-1
Petr Cech
This shot-stopper is performing a class above expectations, and this far, he has kept 9 league clean sheets. It won't be an injustice to Simon Mignolet if this position is presented to Petr Cech.
Nathaniel Clyne
No doubt that Hector Bellerín is really running high but this 24-year-old has also set up a defensive rock and is trying to squeeze the maximum out of him.
Per Mertesacker
The Gunners have conceded only 18 goals till now and the credit goes to this man who made tackles and clearances in aplenty, helping his team soar to the top of the league.
Laurent Koscielny
An absolute wall at the back is formed when this man pairs perfectly with Per Mertesacker, thereby making it the best defensive pairing in the league.
Nacho Monreal
The name of this Spaniard was very easy to pick due to his high-intensity performances. Arsène Wenger is greatly influenced by this defender and won't hesitate to start the match with him. He co-operates with each and every forward, giving them the license to move up.
Lucas Leiva
This defensive midfielder has really played a crucial role for Liverpool this season and has already bagged 58 tackles, far more than any other Red.
Roberto Firmino
The contribution of this Brazilian midfielder is not very often in the matter of goals but the way he links up the play is remarkable. He can quite easily expose opponent's defensive frailties and this is the reason why Klopp prefers him.
Adam Lallana
This man can assert his superiority if he plays in either of the flanks and since Henderson is out, it can be presumed that he will be starting the match.
Theo Walcott
Theo Walcott has been absolutely stunning this far and can pair perfectly with Giroud to bolster the attack.
Mesut Özil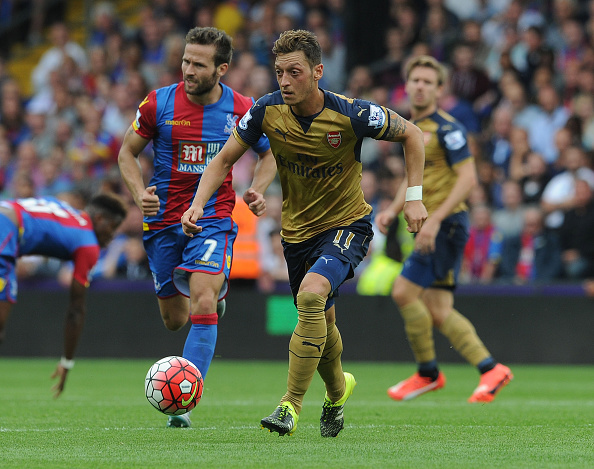 It is almost a veteran task to find out a midfielder better than this German. The German is performing magnificently and it looks as if he has found his rhythm at the Emirates. Özil has bagged 16 league assists this far.
Olivier Giroud
This Frenchman is performing a class above Cristian Benteke and has already popped up 10 goals. When Alexis was injured, he never let the team feel his absence.