Arsenal opinion: Should the Gunners make a move for William Saliba?
A season of ups and downs for Arsenal will end with them playing their first European final since 2006, which also happens to be the only Champions League final the club has ever reached.
Since that moment, their best finish in the Champions League has been a semi-final loss to Barcelona and a semi-final loss to Atletico Madrid last season in the Europa League.
Their stature and confidence in the European competitions, especially the Champions League seemed to disappear once they entered the knock-stages for some reason.
Arsenal would manage to power through the group stages with class and panache but fall well short in the knockout stages, often getting humiliated.
That has changed a little under Unai Emery and alongside a few impressive additions last summer, the master of the Europa League has got them to a final. But their lacklustre and struggling defence didn't help the club, with their semi-final tie finishing with a 7-4 aggregate.
This included two goals in the second leg, which did effectively change the tie. But thanks to their front-line, Arsenal coped up.
That needs to change in the future and it's why a move for William Saliba makes a lot of sense. The Daily Mail has reported that Arsenal are very keen on a deal for the young starlet.
And given the comparisons to Raphael Varane, that should come as no surprise. The 18-year-old Saliba spent six years at AS Bondy before joining Saint-Etienne in 2016 with a cameo at FC Montfermeil.
However, while he did initially join Etienne as a youth star, he quickly rose up the ranks signing his first professional contract at the age of 17.
That saw him eventually make his debut in September of 2018 and he hasn't looked back. Saliba finished the season with 16 appearances to his name, missing just three games since the final week of February.
It shows just how much faith Saint-Etienne has in the young centre-back and he has repaid that in spades.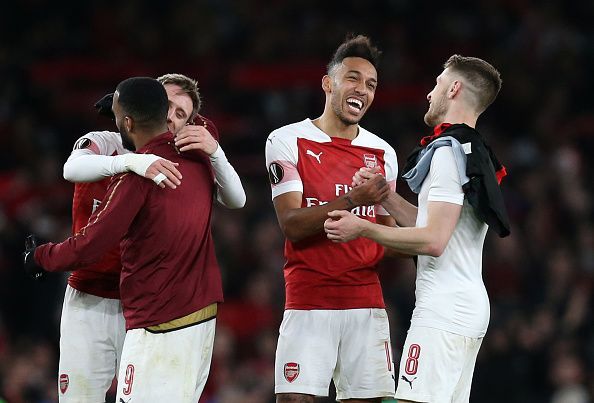 In his 16 appearances, William Saliba averaged a rather impressive 2 tackles, 1.8 interceptions and 2.7 clearances per game. Not only that, he had an 85.6% passing accuracy and averaged at least 40 passes a game, which showcases his ability as a modern centre-back.
Given the fact that he is still 18 years old, a move does come with a lot of risk but sometimes you just have to take the leap and hope for the best.
Read More Arsenal news, click here: Arsenal latest news
Conclusion
William Saliba is only 18 years old and the Frenchman has shown promise and maturity well beyond his years to earn him comparisons to Raphael Varane. It shows the faith that the football world and even Saint-Etienne have in him, which is why Arsenal have to take the risk.