Liverpool's 5-1 thrashing of Arsenal on Saturday was typical of the glorious unpredictability of this sport we love so dearly.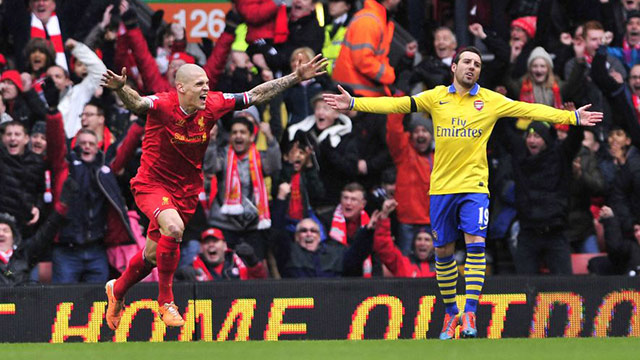 The Gunners, two points clear at the top of the table going into the game, and unbeaten at Anfield since 2007, were high on confidence having won eight of their last nine in all competitions, and surely would have expected to take at least a point against a Liverpool side notorious for inconsistency.
It was of course Jekyll rather than Hyde that turned up in red on Merseyside, as Liverpool came flying out of the blocks with quite possibly the most electrifying 20 minutes of Premier League football in living memory; inexplicably scoring four times.
Yet this wasn't even an expert showing in clinical finishing. Daniel Sturridge squandered a golden chance and Kolo Touré missed an open goal after Luis Suárez's stunning volley cannoned off the post. Arsenal were genuinely fortunate to only be four down, such was the magnitude of the chasm between the sides.
The shambolic naivety of the Gunners' display in those early stages brought back stomach-churning memories of the 8-2 hiding they received at Old Trafford in 2011. But, if anything, this was more worrying. That was an Arsenal side at an all-time low: Cesc Fàbregas and Samir Nasri had been sold, and a combination of injuries, suspensions and a lack of transfer activity meant Arsène Wenger was forced to field a very weak, inexperienced side, and a bench that included Henri Lansbury and Gilles Sunu. 'Who?' indeed.
This, however, was a team seemingly at the height of its powers. Sure, Theo Walcott and Aaron Ramsey are big misses, but with Mesut Özil, Santi Cazorla and Olivier Giroud in the side, there was enough firepower to trouble a makeshift Liverpool backline. They didn't. Likewise, the partnership of Per Mertesacker and Laurent Koscielny at the back has impressed so much all season, and you'd think they could handle their opponent's admittedly vast array of attacking talent efficiently. They couldn't.
This was a childish performance from Arsenal. 2-0 down so early on, they immediately looked to get themselves back in the game, with Jack Wilshere trying his damnedest to produce something but in the process completely neglecting his defensive responsibilities. More intelligent, experienced players would have looked to calm things down for a few minutes, weather the Liverpool storm, and then launch their own attacks with a bit more strategy. There were, of course, 80 minutes remaining and not eight.
Arsenal's complete lack of discipline meant Liverpool had oceans of space and the game was over in what seemed like the blink of an eye. However, these games happen sometimes. It's the response that truly matters. The Gunners had perhaps taken their foot too far off the gas having seemingly coasted to victory in so many of their recent games. Maybe this is the wake-up call they needed at the beginning of their well-publicised run of tricky fixtures?
Lest we forget, Arsenal shipped six at Manchester City, but responded quickly with a decent draw at home to Chelsea, and then a relentless run of victories – with the exception of a draw at Southampton – until Saturday's bloodbath. What the Gunners need to do is regroup, call on that level of professionalism again and start afresh on Wednesday night when they entertain Manchester United.
The Champions themselves are hardly in rude health as the pressure continues to mount on manager David Moyes. On paper, Arsenal, who have been defensively sound and generally very good at home, should beat a floundering United side but it is of course never that simple. Worryingly for Wenger, his team appear to have some kind of mental block preventing them from fully expressing themselves against the top sides.
With a desperately poor recent record against Chelsea and the Manchester clubs, they seem to be afraid and play within themselves, as they did in the disappointing defeat at Old Trafford in the reverse fixture back in November. With the greatest of respect to United, plenty of teams have proved that there's little to be afraid of, and it's important that Arsenal come out with the kind of buzz that Liverpool did at the weekend.
Özil and Giroud have proved themselves to be important players for the club, but a cynic would argue that neither has really done it on the big stage as yet. Wednesday is a real chance to put that right, and bouncing back from such disappointment with a win against a bogey side would restore some serious confidence.
Arsenal need to prove that this is a different team to the one that looked so promising in the 2010/11 season before losing the Carling Cup Final, being knocked out of the FA Cup and Champions League and, essentially, the title race, in the space of a few weeks. This kind of capitulation cannot be allowed to happen and a win on Wednesday would certainly restore some faith that this is a Gunners side that can really challenge.