A selection of Arsenal fans were vocal about their young French International striker, Yaya Sanogo's performance today.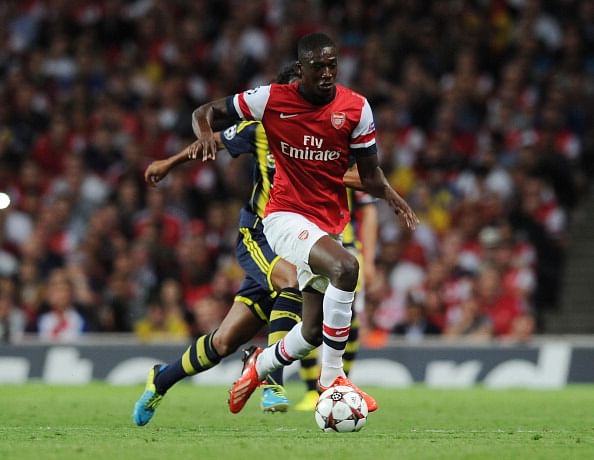 Although the striker failed to find the back of the net, he did produce some moments of brilliance in the game. The most important fact that has amazed Arsenal fans is the striker's little burst of pace. Despite his tall physique, the striker managed 120 minutes and played very decently given the limited number of chances he has been given.
Sanogo could have opened the scoring within the first 5 minutes, but his close range effort was kept away by the Wigan keeper. It does look like, Sanogo has some abilities and if given more time on the pitch and the confidence from the manager, he can turn out to be a decent bet. (Of course, new found tactic – hold up play is in his favour)
However, there has been a mixed reaction from the mass.
Here are some of the Tweets from Arsenal fans on Sanogo's Performance
#Sanago's time is coming and he will surprise many i cant underrate him

— Okwiri Rein (@okwiri_rein) April 12, 2014
Sanago done well for me tonight, bit wasteful but worked tirelessly and give his all, got into good positions eventually goals will come.

— Brian Cahill (@briancahill3) April 12, 2014
And about sanago, not perfect but has talent. Worked his socks of today. Respect bruddaaaaaaaaaaaaaaaaa.

— oliviers bitch (@aprilburton21) April 12, 2014
Best thing to do would be to send Sanago out on loan to get some experience. He's not ready for these games yet in my opinion.

— Danny (@R9Rai) April 12, 2014
Arsenal fans tweeting me backing Sanago lol. If you lost that you would've ripped into him…

— Danny (@R9Rai) April 12, 2014
Sanago has got the potential. With more regular appearances and good coaching he could be top quality.

— Forever Arsenal (@Forever_RedArmy) April 12, 2014
The fact Wenger didn't buy in January cos he had Sanago says everything you need to know about how he's lost his touch

— JYD (@Goonar_Al) April 12, 2014
#ArsenalJoke … Q. Why is Giroud not allowed in the opposition's penalty area? A. Because it's Sanago area. <applause>

— Adam Devlin (@ad_I_am) April 12, 2014
I cant believe sanago has played full 90 minutes lol

— Boxer (@KalmKobi_) April 12, 2014