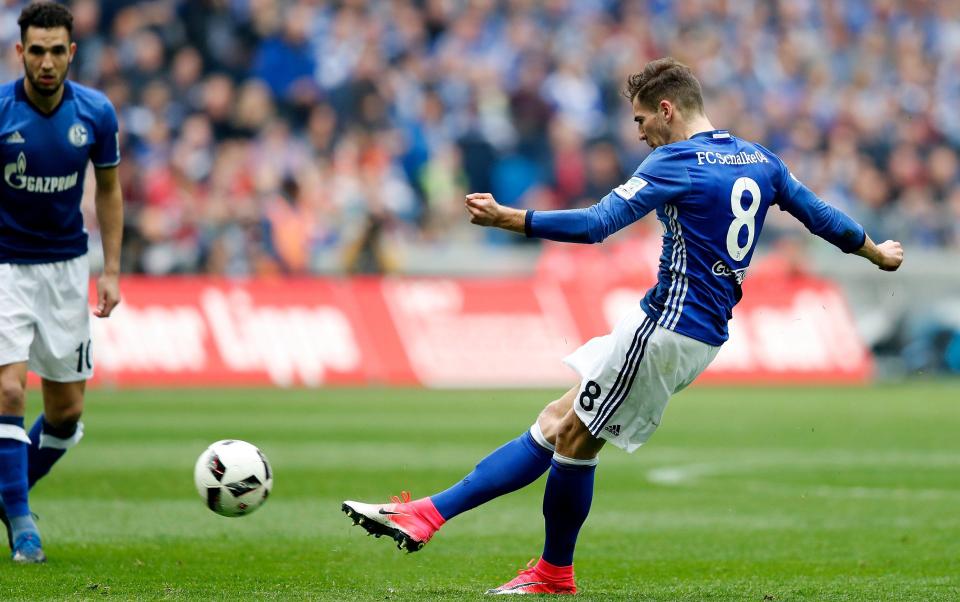 Leon Goretzka's Future – Who Should The Young German Join?
All the big clubs in Europe have taken to a new fad of rivalling one another when it comes to landing a fresh talent who has the potential to become a world-class superstar. Putting things into context, we are talking about Germany's young starlet, midfield general Leon Goretzka.
Taking into effect the interest from European giants like Barcelona, Real Madrid, Bayern Munich, and Arsenal, there is enough fire in the rumours that are making the rounds for next summer's transfer window. As of now, the clubs that seem most likely to offer massive contract to the newbie are European champions Real Madrid, Barcelona, German champions Bayern Munich and Arsenal.
Goretzka has also been compared to Germany's midfield maestro Michael Ballack on numerous occasions. He is definitely one for the future and is going to be on the move next summer to bigger and better things. Despite his contract running out in 2018, he has made his commitment to the club very clear by staying focused on the pitch.
Being known as a target for top EPL and La Liga clubs with an outside intent from Bundesliga champions Bayern Munich, Leon Goretzka is inarguably a wanted man right now. A real war for his signature is going to take place in the near future.
Goretzka signed for Schalke in 2013 from VfL Bochum and has since gone on to make 125 appearances for Die Knappen, scoring 16 goals and notching up 13 assists. He is particularly famous for hurting teams with his strong driving force, endurance and passing range from the midfield.
At the moment, he is one of Germany's brightest talents at the age of 22, on the brink of building a successful career, preferably outside his native land.
Barcelona / Real Madrid / Bayern Munich / Arsenal – Which Club Is The Best Option For Leon Goretzka?

According to reports, the Gunners are set to offer the Germany starlet a massive contract in an attempt to lure him to the Emirates Stadium. Apparently, Arsenal are ready to go all guns blazing for the highly-rated young Germany International to beat the likes of Real and Barca.
There are claims surfacing that should the Schalke man prefer a move away from his native Germany, Arsenal may well stand a good chance of securing a deal for Goretzka, and the Gunners could be willing to spend big on his wages.
Also, the Gunners will be in need of reinforcements next season with Alexis Sanchez, Mesut Ozil and Jack Wilshere yet to sign new contracts. Assumably, Goretzka would be an ideal replacement for his fellow countryman Ozil and can also play anywhere in the midfield.
If he chooses Arsenal, he will join a contingent of fellow Germans such as Mesut Ozil (if he stays), Shkodran Mustafi and Per Mertesacker, as well as former Schalke teammate Sead Kolasinac.
His performances for Germany in the Confederations Cup this summer certainly caught the eye as he finished as the top-scorer with 3 goals. Arsenal would want him to replicate the same kind of performance at the Emirates Stadium. Ideally, the Gunners seem like the best bet as far as Goretzka's future is concerned.
In a dramatic twist to the Leon Goretzka transfer tale though, according to some reports, Goretzka is considering joining either Barcelona or Bayern Munich when his contract expires next summer.
Bayern Munich have always signed young Bundesliga talents and one cannot rule out Goretzka joining the Bavarians. They have always nurtured youngsters and surely, he wouldn't be a waste if he joins them, given the talent that he is. Maybe he can think about Mario Gotze or other youngsters who never prospered at Bayern but he would certainly know that talent gets recognised at the home of the German champions.
Barcelona have a plethora of midfield choices but will need to replace captain Andres Iniesta at some point, with the midfielder having turned 33 in May. He is nearing the end of a phenomenal career and it would be difficult for the Catalans to replace him.
Goretzka could certainly be an option: He has huge potential and is a versatile midfielder with a real eye for goal. Regardless of where the young German lands up, one thing is for sure – Leon Goretzka's impact on international as well as European club football. He has emerged as a truly BIG prospect coming out of the Bundesliga.