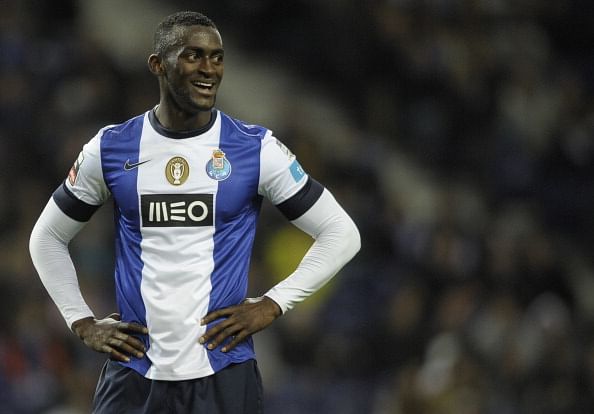 There was one team in yellow which really blew everyone's mind with their slick attacking play and star players, no it was not Brazil, although Neymar was technically carrying the team on his back, sorry about that pun. The team that was probably the best South American team in the World Cup was Colombia, even without Radamel Falcao they were one of the teams to watch with their brilliant play.
James Rodriguez and Juan Cuardado stole the show with their interlinking play but another player who has been racking up the goals for club and country is Jackson Martinez, the FC Porto striker has been on fire, like most Porto strikers and has scored 77 goals in 111 appearances for the Portuguese club.
Martinez has always been touted as one of the best strikers in the game but playing in the Portuguese league doesn't get the same kind of limelight as the other top leagues and after a couple of years at the club it could be time for the Colombian to make a move to a bigger league.
England calling?
Liverpool have been linked with the Colombian for the best part of a year, even last season he was linked with a move to the Anfield club but ultimately he decided to stay at Porto to hone his skills. It was widely expected that Martinez would move away from Porto this season, especially after a decent World Cup where he scored twice against Japan. However, no concrete offers were made for Martinez and he has remained in Portugal.
Recently with Liverpool's striker woes, rumours have crept up that the Merseyside club are willing to sign Martinez by paying Porto close to £27 million to secure his services. Martinez has great finishing ability, is strong and can has good movement along the backline, he has decent pace to boot but it is his finishing ability and strength which are his biggest assets.
Porto would love to make as much money as they can from the sale of Martinez and are bracing themselves for a couple of offers from other clubs as well. There have been talks that Tottenham could be getting ready to make a cash + player deal to bring the Colombian to the Premier League, Roberto Soldado, who has struggled for goals for Tottenham, could move in the other direction to bring Martinez to London.
Either way, both clubs could use a striker who is not only strong but can score goals; they would have to break the bank to secure his services. A stumbling block would he his age, Martinez is 28 years old and hasn't played at the top level, so bringing in a 28 year old for £25 plus million is a huge gamble, would Spurs or Liverpool be willing to take such a risk? We have to wait to find out.