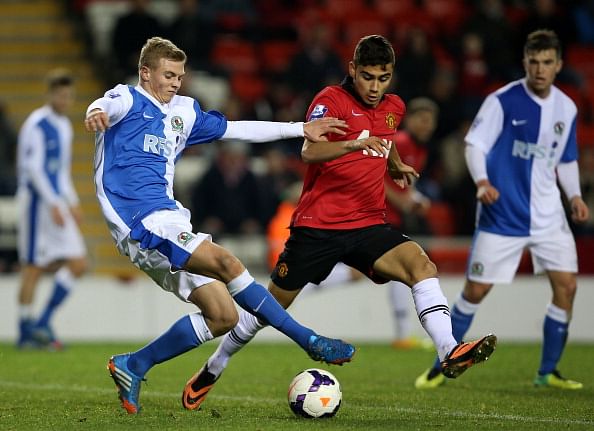 Manchester United are facing another tough battle to keep a player who could become one of the best midfielders in the world, 19 year old Andreas Pereira has been at Manchester United since 2011 after he was snapped up from PSV Eindhoven but he could be on his way out from the club after he rejected a new contract and is being touted to make the same move that Paul Pogba did and join Juventus.
Pogba has been in contact with Pereira and has said that Juventus would be an ideal place for the development and up bringing of the young player, while United will be trying to pull all the stops to ensure that they do not lose out on another star in the making, we have a little look into who Pereira is and why is it that so many clubs are after him.
A gifted midfielder and a star in the making
Andreas was born in Belgium in the town of Duffel, where his father, the Brazilian Marcos Pereira was playing, the younger Pereira started his career for the local team Lommel United before he was snapped up by PSV Eindhoven in 2005, after his development, he was even chosen to represent Belgium at the U15 and U16 levels, he did play for them but has since represented Brazil in the U17 age group and has broken into the U20 team.
He moved to Manchester United to further his development, United had to beat off a lot of rivals to secure his services but his contract will end at the end of this season and it seems that he is hell bent on leaving United for pastures in Italy, although another club or two might make a move for him since he is highly rated and would be an ideal player to have in the team for the future.
Pereira describes himself as a real No 10 and that he loves to provide players with chances to score, although he does have a great shot in himself, he prefers to create the goal scoring opportunity and spraying passes all around to his team mates.
He has great technical ability as well and often does drop deep to pick up the ball so that he can create that killer chance, even when he is surrounded by 2-3 players, he looks to provide that through ball, which can open defences and allow the team to score. He also is great in set pieces and can score a goal or two from the same, there are a few negative points to his game as well. Consistency is a problem for the youngster as he does often go missing in games and in his need to provide the killer pass, he does give the ball away to the opposition.
If United do lose him, it would be not only a major blow to their team but also to their ability in keeping young talent at the club.