When Chelsea's most successful manager Jose Mourinho finally made his return to Stamford Bridge, fans heaved a sigh of relief. Finally, they have got the man whom in their opinion, could bring the club back to winning ways.
In the seasons before his arrival, the foundations of a new look Chelsea side were laid out by Roman Abramovich and his team of football advisors. Ageing and underperforming players like Deco, Michael Ballack and Julianno Beletti departed the club, as the club focused on more careful buys for the future. Such buys included the likes of Brazilian duo Ramires and David Luiz, who have stepped up for the club in recent seasons. Creative leaders in attacking midfield were also bought, one in particular, Juan Mata, would go on to be the club's best performing player for two seasons. Chelsea also did not neglect home grown talent, England international Gary Cahill was brought in to shore up the defence, while Ryan Betrand was promoted to the first team. New deals for existing veterans John Terry, Frank Lampard and Ashley Cole were also renegotiated.
Last season was crucial because it also saw the bedding in of Europe's brightest talents, namely Eden Hazard, Oscar and Victor Moses. These players gelled together in what was a season of transition for the side. In other areas, astute loan moves negotiated by the club for talented youth players such as Romelu Lukaku, Kevin De Bruyne and Lucas Piazon also lead to them gaining adequate and crucial experience at the top flight of Europe's biggest leagues. While such moves were risky, the loanees ability to play and excel last season meant that Mourinho arrived to the club with a ready-made blend of attacking talent awaiting him.
A look at this season's Chelsea squad reveals a staggering amount of diversity in the midfield. Chelsea has undoubtedly bought and molded incredible players in just 3 years. For exciting out and out wingers, they have the likes Victor Moses and the newly arrived Andre Schurrle. In terms of creative players, they have the seasoned Juan Mata, precocious Oscar and returning Werder Breman Loanee Kevin De Bruyne. In Eden Hazard, Mourinho has arguably one of the most talented attacking midfielders of his generation. A player whom many believe can win the Balloon d'Or one day.
Going to deeper midfield; Ramires, John Obi Mikel, Michael Essien, Frank Lamaprd and Marco Van Ginkel represent the perfect blend of experience, energy and youth. Some players of note include Essien, who was and should be Mourinho's go to utility man. Ramires on the other hand has proven himself a crucial driver of the Chelsea midfield engine room while Lampard holds the team together with his leadership, experience and consistency in midfield.
In defence, John Terry continues to lead from the back not only as an outstanding leader, but also an experienced defender. David Luiz follows closely as a player who is beginning to make his mark on the team with his ability to play out from the back as well as lead the team defensively in the absence of Terry. It is the consensus of many fans that the Brazilian might wear the Captain's armband one day. For the right back position, Cesar Azipilicueta has grown into the clubs first choice right back in just one short season, while Ashley Cole continues to excel and show why he is still considered one of the best left backs in the world.
With a solid defence and midfield, Mourinho is two thirds of the way towards building a team ready to dominate the premier league for seasons to come, yet it remains startling that the Portuguese has yet to complete his team with the purchase of a world class striker.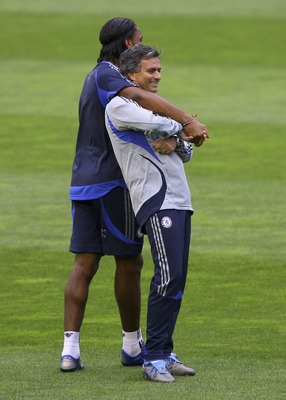 When Mourinho bought Didier Drogba in 2004, he found the perfect striker to lead his attack. Drogba complemented his team perfectly. The Ivorian was strong, determined and a great finisher of the ball. He completed moves started from an industrious midfield and had the knack of stepping up to the plate in crucial matches. With Drogba in the side, Mourinho won back to back premier league titles. The Ivorian's significance to the side continued even after the departure of Jose Mourinho as well as competition from Nicolas Anelka.
For fans and officials in the club, many knew that they could not afford to rely on Drogba much longer. After all, Drogba was ageing and a replacement for him had to be found. With the transfer of a 50 million pound Fernando Torres, Chelsea hoped that they had found a striker who could take over Drogba's mantle.
There was little to doubt about Fernando Torre's purchase at that point of time. The Spaniard was one of the best finishers in the premier league, and used his electric pace excellently to play on the shoulder of the last defender. The Spaniard was also a leader from the front, often stepping up to score in the biggest of matches (Ironically, Chelsea was the club he scored against the most prior to his move). It was believed that with the right service, Fernando Torres could be a marked improvement over Drogba. After all, Drogba was seen as a striker who excelled at fashioning chances for himself through hold up play and bullying defenders. Fernando Torres was different; he was more proficient technically, someone who could assimilate and thrive with a more creative midfield unlike Drogba who often went in attack alone with an industrious midfield behind lobbing balls to him.
Unfortunately, Chelsea made a big mistake with Torres. They bought an arrow head without forming a firm shaft first. Players that were originally bought to bring the best out of Drogba still remained at the club. Hence, it was no surprise when the Spaniard struggled in his first season after a January transfer move. In the next season however, Juan Mata, the creative Spaniard was brought in to provide the service that Fernando Torres needed. Unfortunately, Mata's arrival coincided with poor form and injuries to Torres. Despite certain glimpses of his talent, Mata alone could not propel the Spaniard back to his former ways. In a bid to obtain results, then manager Robert Di Matteo stabilized the ship by reinstating Drogba to the starting lineup. Drogba duly won Chelsea the coveted Champions league trophy and departed the club. Now, Fernando Torres finally had the opportunity to make his mark as Chelsea's main striker.
In the following season (last season), Chelsea learned from their mistake and worked in the next transfer window to bring in a slew of new midfielders who they thought could take over Juan Mata's already burdensome job of creativity. They relegated veteran Florent Malouda to the sidelines, and replaced him with Eden Hazard. Oscar and Victor Moses were also brought in. In one productive transfer market, Chelsea streamlined their "shaft", and provided Fernando Torres with the service he needed. Torres's from evidently improved, but despite scoring 20 goals last season, many knew that it was too late for the Spaniard to recapture his impressive form at Liverpool. 3 mediocre seasons had passed and patience with the fans was wearing thin. The club recognized Torres's failings and moved to purchase Demba Ba in January.
However, despite a promising start, the Senegal international failed to recapture his early season form at Newcastle United. Ba continued to be wasteful in front of goal despite his knack for scoring the spectacular one. Torres was brought back into the lineup and performed reasonably well (his best performance coming in the Europa league final). Sadly, his domestic form remained woeful and Ba continued to be selected ahead of him in the premier league.
Despite failings from Chelsea's strikers, there were positives to be found from last season. One in particular, was the formation of the feared triumvirate of Oscar, Mata and Hazard. Last season also saw marked improvements in defence from David Luiz, while Spaniard Azipilicueta proved to the club that they had finally found the next best replacement to their right back position. In deeper midfield, John Obi Mikel had a solid season, while Ramires continued to establish himself as the club's crucial midfield component. Frank Lampard also had a season of renaissance, breaking the club's goal scoring record with inspired performances. Chelsea's midfield and defence have finally begun to click. Mourinho's only job now was to find the perfect arrow head to complement what was already a solid shaft.
In the first weeks of the transfer window, Chelsea predictably added further improvements to the team. Andre Schurrle was bought in to give competition to attacking midfield while Marco Van Ginkel was brought in as a potential replacement for Frank Lampard. Loanees Kevin De Bruyne and Lucas Piazon was called back to add further depth. Most notably, Romelu Lukaku, the player widely seen to be the next Didier Drogba returned triumphant from a spectacular season at West brom Albion Football club. The Belgian while young was given assurances by Mourinho that he would be able to show his worth this season. That brought the club's tally of striker to 3, out of which only Lukaku looked the safest from Mourinho's chopping block.
In the next few weeks, several sources claimed that Demba Ba was deemed surplus to requirements as Mourinho proceeded to trim his squad of deadwood. Meanwhile, Chelsea was linked to a host of striking talent from Radamel Falcao, Edison Cavani to Stevan Jovetic and others. While some were baseless rumours, solid interest could be confirmed for Falcao and Cavani, currently the world's best center forwards. Falcao and Cavani would have been the best bets for Chelsea to finish their master piece. However, they were eventually captured by more lucrative projects in France and shunned moves to the premier league. With Falcao and Cavani gone, other clubs moved quickly to sign the next best strikers. Manchester City in particular, signed Stevan Jovetic and Sevilla's Alvaro Negredo while Juventus moved for Carlos Tevez within weeks.
In a shock period of frantic buying, Mourinho suddenly finds himself devoid of the final pieces to his jigsaw. The Chelsea project which the club painstakingly built and nurtured now looks set to enter the new season without a proven striker to lead the line. This is the conundrum that Mourinho now faces after indecisiveness in the transfer market. What lies next for the Portuguese?
Most Chelsea fans would be the first to vouch for young Lukaku, who has more than proven himself in the premier league last season. However, despite an excellent performance last season, premier teams will now be more wary and ready for the Belgian starlet.
The reason why Lukaku was such a success is because teams struggled against his style of play, one made famous by Didier Drogba. Lukaku dominating defences with not only pure strength and power but an added danger of terrifying pace, one that has caught defenders of guard many times last season. Furthermore, West Brom were smart to pair Lukaku with Shane Long, two forwards whose play centered around wide spaces and direct running. Lukaku stunned defenders who thought him more immobile while West Brom's team shape gave the Belgian and Long enough areas of the pitch to make full use of their pace and drive. However, such a play style may not work in this current Chelsea squad.
For one, with technically skilled midfielders like Eden Hazard, Oscar and Mata, space required for Lukaku immediately decreases because of their tendency to dribble forward with the ball. By dribbling forward towards the penalty box, Lukaku's ability to exploit space behind the defence decreases. Similarly, his ability to use his hold up play also decreases when the midfielders behind him play lesser long balls and more short grounded passes. In summary, there will be a high chance that Lukaku fails to adept to a different brand of service. Relying on the Belgian's ability to swap his expansive and power driven play style last season for a more intricate technical one is a gamble Mourinho will be wary of making.
With a potential Lukaku mismatch, it seems obvious in the recent days that Mourinho has turned to Wayne Rooney to lead the Chelsea line. The choice of Wayne Rooney is obvious, after all the English man is a proven premier league star and a consistent performer for Manchester United for 9 years straight. Rooney's strength and ability to finish mirrors that of Drogba. However, it is Rooney's strength in creating that also lends weight to Mourinho's decision to sign him. After all, Rooney is also adept at playing in midfield and has an eye for a killer pass. In a way, Rooney represents a modern day False 9, one capable for creating from deeper midfield as well as lead the line as a striker. An on form Rooney will have no trouble playing with Chelsea's attacking midfielders, forming an exciting attack that will strike fear into opposition teams next season.
However, the costs and risk of acquiring Rooney may be too high. Firstly, Rooney may not even be interested in a move to Chelsea, despite Mourinho's open admiration for him. Chelsea will also be getting a forward who spent the last season behind Robin Van Persie and woefully out of form. Haunting images of 50 million spent on Torres would give Abramovich nightmares of a potential botched investment. Furthermore, Rooney is in his late twenties and such a move goes against the club's policy of recruiting younger players. Hence this begets the crucial question; Are they no other possible targets in other teams right now?
While other clubs have moved to secure their targets, a few strikers remain in limbo over their futures. Among them is Gonzalo Higuain from Real Madrid. While Arsenal have been the main suitors for him in recent weeks, talks have stalled reportedly due to Arsenal's reluctance to increase on their valuation for the striker. From a Mourinho standpoint, a move for Higuain could pan out because of 1) Mourinho has worked with him before and 2) Higuain is a player best suited to make full use of Chelsea's attacking line up and fits into the clubs philosophy.
As many who have seen him play will agree, Higuain is a spectacular finisher. In fact, he has one of the highest conversion ratios in the La Liga last season and that ability of his to put the ball into the net from any area of the pitch will benefit the Chelsea team sorely lacking a cutting edge. Furthermore, Higuain is still young (25 years of age), full of pace and an intelligent runner in attack. His ability to build a strong understanding with Real Madrid's attacking midfielders has seen him make full use of the service given to him. Higuain is also proficient enough to contribute in terms of assists. An impressive 28 goals and 10 assists in 43 appearances only lend weight to his potential.
 Mourinho could also look to pick up Luiz Suarez from Liverpool. However, history has shown that the Portuguese often strays away from players who have disciplinary problems and a move for Suarez may also be rejected by the club for fear of him tarnishing its reputation.
As the transfer window and pre-season progresses, Mourinho begins fine tuning his team for the season ahead. It is undeniable that years of preparation and transition of the Chelsea team have come down to this crucial season. However, without a proven striker to lead Chelsea's line, Mourinho would risk sending his arrow into the fray without a head. That mistake, could be the difference between glory and an embarrassing defeat for the Portuguese's first season in charge at the helm of Stamford Bridge.