So Premier League takes a two week break for the International friendly matches between national teams. The race for the title is slowly turning out to be a two horse race between Tottenham and Leicester City but was even more fascinating is the race for the much needed Champions League places between four clubs below Tottenham in second place. Arsenal followed by blue side of Manchester, then West Ham on fifth and at the end of the tail is United, although one could make a case for the likes of Stoke and Liverpool as well. The main pressure will be on the three big clubs, who will have it to fight for two places in order to secure qualification to next year's Champions League.
Arsenal
Arsenal are currently third and still have a faint chance of grabbing the league by May but their main problem could come from the other side where just four points separate the Gunners from United who are in the sixth place. Wenger who has always maintained the importance of qualifying for Europe's most elite tournament, will be under huge pressure to leave the club in the summer if they fail to qualify this season. Their horrible run in 2016 has put them 11 points behind Leicester with just 8 games to games to go. With a trip to the Etihad still left, it could very well go down to the wire for the North Londoners this season. However one must not forget that Arsene Wenger has somehow made sure that his team atleast finish in the top four every season. Therefore one feels that Gunners will manage to sneak through although it will be by the skin of their teeth.
Manchester City
After winning the Capital One cup three weeks back many fans and pundits thought that now City will power on and snatch the League trophy from Leicester's hand but that hasn't happened. While Leicester have continued their impressive run, City have been horrible in the League since the announcement of Pep's arrival in the summer. One might point out that the decision to announce the next manager has unsettled the side but unfortunately for the noisy neighbors of United, a club managed by Pep playing in the Europa League will not be able to attract the best players from the around the world, which might hamper Guardiola's long term plans. Therefore it is very important that Pellegrini leaves a suitable base on which Pep can build. Injuries to Hart, Kompany and Sterling will not help him but what he does have is a huge talented squad, he just needs to motivate them to finish strong.
West Ham United
West Ham will move to their new home next summer when they take over the Olympic Stadium. This new ground will put them on a global map amongst the elites of the world, which will then be increased many folds, if they manage to qualify for the Champions League this season. They have been brilliant this season, Slaven Bilic has worked hard to make this team compete with the best the League has to offer. His superb summer signings have led the team from the front. Their Champions League ambitions could take a hit though next month when they take on Arsenal and Leicester in successive weekends. However since very few people are expecting them to finish in the top four, Bilic's men can go out there and express themselves freely till the end.
Manchester United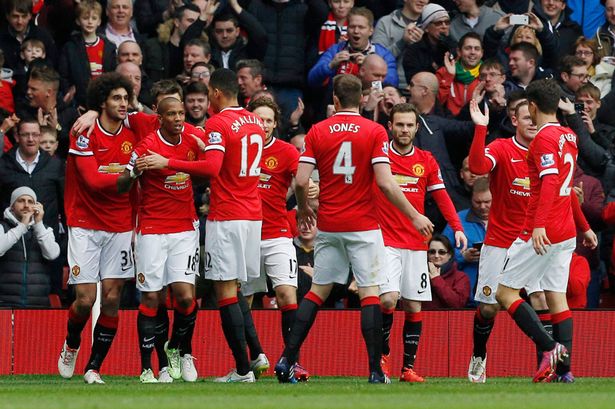 Maybe if Sir Alex Ferguson knew what state the club is going to be in after he leaves, he might have changed his decision. After a torrid campaign under Moyes, United fans weren't expecting such disastrous results from LVG. He was supposed to bring United back among the top teams in Europe, unfortunately his tenure has seen them slide even further. His team is struggling in sixth place and are in high danger of missing out on Champions League action for the second time in three years. Although United's run-in isn't so difficult till the end, currently one can't be sure of them beating anyone 100%, these are tough times for United but it is the Academy graduates at the club, who are trying to lift this club. Recent victory against City in the Manchester derby suggest that fortunes may turn for the Dutch coach but it will take a hell of a run for United to finish in the top four from here.