Real Madrid – A Dream XI For The 2017/18 Season
With a players like Pepe are set to leave the Bernabeu before the upcoming season, Real Madrid boss Zidane will be looking to bring in new reinforcements before the start of the pre-season to ensure a smooth transition. While the roster already consists of world class players like Toni Croos, Luka Modric, and Cristiano Ronaldo, there are still some voids left to fill in, to create more quality and depth in the squad.
Here's a dream playing XI for the Los Blancos next season if all the transfers go through as planned.
A Real Madrid Dream XI
Goalkeeper: David De Gea
Even though Keylor Navas played really well in recent weeks, Real Madrid could finally sign the Spanish goalkeeper who has been their target for a while now. With Navas set to stay and compete with De Gea this time, that does mean success in gaining squad depth.
Right back: Dani Carvajal
He possesses that ability to make recovery challenges, be aggressive in terms of shutting out the opposition, and yet still be the outlet for attack after attack down Real Madrid's right. Carvajal, along with Marcelo makes Real Madrid's one of the best full-back pairs in the world.
Centre-back: Sergio Ramos
Sergio Ramos is another crucial player for the side. He is a supreme leader, a powerful athlete, a technically gifted player, and one of the all-time great defenders given it is his day. Barring aside all his silly mistakes, there are not really many players in the market who can be a worthy replacement for him.
Centre-back: Raphael Varane
With Pepe leaving the club this summer, Varane should be guaranteed a regular spot in the starting XI and should partner Ramos in the centre of Real Madrid's defence. Fortunately for Zidane, Varane is more than capable of being a difference-maker.
Left back: Marcelo
Arguably the world's best left back, Marcelo is as dynamic as left-backs are usually expected to be. He played some of his best football last season and there's no question about his starting place, unless he gets injured or rested.
Midfielder: Toni Kroos
Zidane has plenty of attacking options at his disposal, but finding a more consistent midfield option than Kroos is an uphill task. He can pass, defend, dribble and dismantle a shot if the situation demands.
Midfielder: Casemiro
As he's the only real defensive midfielder in the side, Casemiro's ability to get stuck in and effectively undertake the dirty work with compact commitment, aggression and physicality has been vital for the success Real Madrid tasted last season.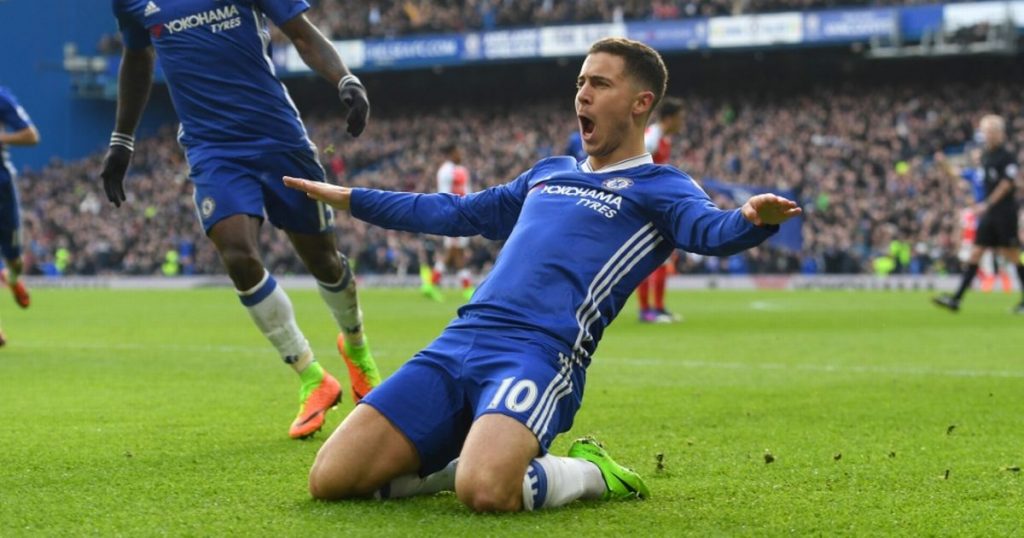 Midfielder: Luka Modric
With Casemiro around to help neutralise the opposition attacks, Modric should be freed up to try and keep Real Madrid's possession stitched together. Even though his attacking output has decreased quite a bit, his ball-retention stats have certainly gone up.
Attacking midfield: Eden Hazard
Eden Hazard could be a valuable addition to the current Real Madrid side with Bale being quite an injury prone player. Nevertheless , the trio of Eden Hazard, Cristiano Ronaldo and Karim Benzema would be one of the most feared attacks across the European football. One of Isco or James Rodriguez might have to be sacrificed if the Belgian is to arrive.
Left forward: Cristiano Ronaldo
Even after reaching the age of 32, he is still the main man in the team. The hunger, the desire to win trophies and the physical fitness he maintains is what that separates him from the rest of the players in the squad. He's still probably got another couple of good seasons left in him and hence he is a definite starter.
Right forward: Karim Benzema
Benzema might not have all the sizzle of some of the world's greatest forwards, but he's reliable enough. Also, not many better options are available in the transfer market and this might make Zidane keep Benzema in the squad until the right World class striker becomes available in the market.