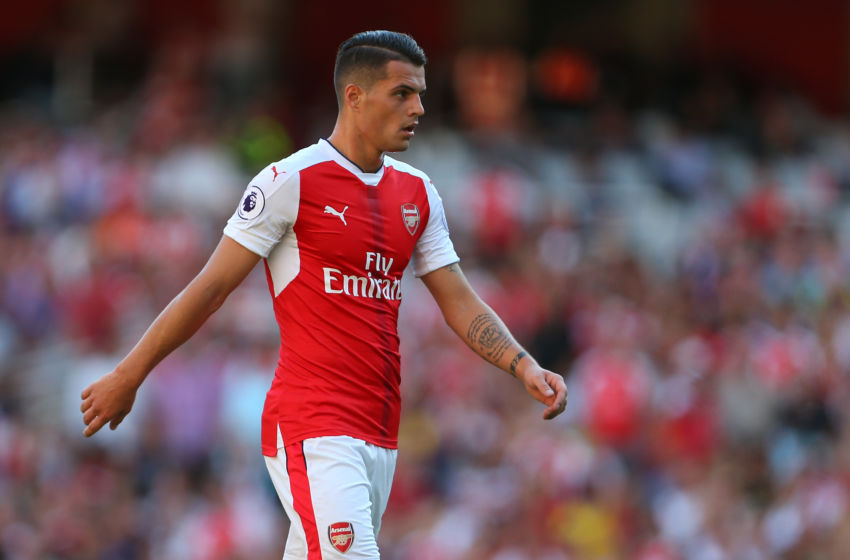 There is nobody more meticulous than Arsene Wenger when it comes to transfers. He vets the players thoroughly, and only if he believes they are value for money, does he make a move. It's therefore very surprising that he spent £35 million in the summer on a player he has used sparingly this season. Granit Xhaka is the third-most expensive player in Arsenal's history, but he has struggled to establish himself as a regular at the Emirates Stadium and is behind Francis Coquelin, Mohamed Elneny and Aaron Ramsey – with Santi Cazorla out injured – in the pecking order.
When Cazorla was both fit and available for selection, nobody questioned Wenger's choice to use an established pairing of the Spaniard alongside Coquelin in the middle of the park. However, with Cazorla injured, the Swiss star's absence has been confounding for many a fan.
It is difficult to understand the under-use of a player that he brought into the club for a substantial amount. When talking about Xhaka's start to the season, Wenger had said:
"I'm very happy with Granit's commitment. I think he's developing well. He hasn't maybe started enough since the start of the season but he is adapting to a different league, a different way of playing. Overall I'm happy because every day he's focused on working hard and I'm confident he'll get his number of games."
Many months have gone by since, but Xhaka still finds himself on the sidelines. In a crucial tie at Old Trafford, Wenger decided to partner Coquelin with Mohamed Elneny overlooking the Swiss midfielder, stating that he needed physicality in the midfield. It wasn't very well received by fans, as Xhaka is no pushover physically. He is tenacious by nature and loves to go toe to toe with his opponents. But he was left out despite Wenger wanting a physical presence in the centre of the park.
After a poor outing against old nemesis Jose Mourinho's men, it was widely expected that Xhaka would feature against PSG in the Champions League. Instead, Aaron Ramsey started in the midfield alongside Coquelin. Xhaka did make an appearance for the last 10 minutes but did nothing to please the Arsenal manager.
There have been reports that Wenger is unhappy with Xhaka's overly-aggressive style. The Swiss star has so far seen two yellow cards and a red card in the Premier League. A while back, Wenger spoke to Sky Sports, shedding light on the issue:
"Am I bit concerned? Yes, of course.

The discipline is important and we want to be effective in all situations we face and in the derby, it is important to keep control of your reaction and to have a strong discipline, because it is part of the effectiveness in these games.

Normally he is a very composed and calm guy. Sometimes on the field he has a reaction that is a bit impulsive and he knows that.

It is not because you talk about that. He has to work on that and keep control of his reactions in the game."
But with the amount of scouting and research Wenger and his staff put in before signing a player, it should not come as a surprise that the former Borussia Monchengladbach star has always been physically challenging and the no-nonsense approach is a key part of his game. With such rumours doing rounds, Xhaka has had to come out and state that he would not change his style of play and many believe that Arsenal would benefit a great deal from Xhaka's aggression.
And it showed when Xhaka finally got his chance against Bournemouth over the weekend. Playing alongside Elneny, he had a great game in the middle of the park against the Cherries, after an edgy start, as the Gunners ran clear winners by a 3-1 margin.
Granit Xhaka: Made 9 tackles vs Bournemouth, only Pablo Zabaleta has made more in a PL match this season (10 vs Spurs) #ARSBOU

— WhoScored.com (@WhoScored) November 27, 2016
He showed his range of passing, while at the same time played the role of an enforcer as he put in 9 tackles on the night, second highest by any player in a single game in the league. He also made 3 interceptions against Bournemouth. Numbers that Coquelin has not been able to produce despite being a regular in the line-up.
Xhaka is a natural in the deep-lying playmaker and he is someone who is always willing to sit deep and pick passes. He possesses the vision and the technical ability to find Arsenal's attacking players from the deeper areas. And as shown against Bournemouth, he can be a steely customer while defending.
It is understandable that Wenger is hesitant to replace Coquelin who offers a sense of stability and security at the back. But Xhaka has shown that he can be trusted with screening the defence. He may not offer the same running and energy that Coquelin brings to the table, but with his intelligence and determination, he can more than make up for it. And with Shkodran Mustafi and Laurent Koscielny performing admirably well at the back, it is time for Wenger to show some faith in his other summer signing. After an impressive showing, it is only fair that Xhaka is given a regular run in the side, to try and establish himself at the Emirates.