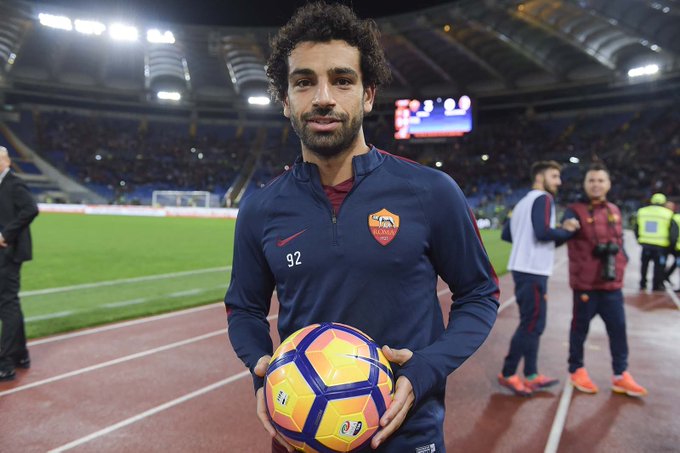 The Blues coach Antonio Conte has hinted at the possibility of adding few players to his ranks come January as he looks to bolster his squad, and one can only wonder if the attacking department is 1 of the places the Italian tactician is looking to strengthen, given how brilliant the team has been in the final third since his reign started.
Chelsea have scored 26 league goals in 11 games this season, with 16 of those coming in the last 5 games against Hull, Leicester, Manchester United, Southampton and Everton. But could the goals have been more? And the club could have been more clinical in the final third if one of their former players were still to be in the squad?
How deadlier would Chelsea's attack be if it had Egypt international, Mohamed Salah in it?
The AS Roma player didn't quite fulfil his potential at the Stamford Bridge, but his performances with the Serie A side are earning him plaudits and he is being lauded on a constant basis by pundits and aficionados alike. With one left to wonder if his permanent exit from the west London club isn't untimely and regretful.
Over the weekend, the 24-year-old produced a master class display for the capital club, bagging a hat-trick against Bologna. The win, inspired by Salah's heroics in front of goal kept them in hot pursuit of league leaders Juventus, and only 4 points separate the top 2 clubs on the log.
Was letting Salah go a big blooper?
Having arrived on the back of splendid displays for Swiss giants Basel, the winger had a disappointing start to life in the EPL as he failed to hit the grounding upon arrival.
While a loan term was an ideal solution to help the talented north African rediscover his confidence and form, like the case is with a lot of players the club ended up discarding, he was never given a 2nd chance upon completing his first loan deal, and instead moved from Fiorentina to Roma on another loan deal.
While Chelsea failed to see anything worth fighting for in the player they forked out £11 million on in the winter of 2014, Roma quickly spotted a gem, agreeing to pay €15 million for his services.
The fact that his exit from Fiorentina sparked a row as the club wasn't keen to let such talented forward go after completing just 6 months of the agreed 18-month loan speaks volume.
Salah has now scored 8 goals in 12 Serie A appearances this season, just 2 shy of topping the goalscoring charts, and if his blistering form in front of goal continues, Roma might as well challenge Juve's dominance for a Scudetto this term.
Not only has the splendid finisher provided the goals and assists (4), he is creating loads of chances for his teammates having made 35 other key passes this term.
Although he has played a league game more than Hazard, his stats better those of his former teammate's, and how lethargic an attacking partnership between the two would have been for Chelsea is anyone's guess.
Salah has created 19 more chances, scored 1 more goal and recorded 3 more assists than Hazard, and maybe those contributions, or something close would have been Chelsea's to enjoy at the moment if they weren't so quick in letting one of Europe's finest attackers go.
Selling Salah is beginning to look like a mistake, and only a title win this season for Chelsea would convince many it isn't.