Why Kyle Walker could wreak havoc in his new role at Manchester City
Kyle Walker's positional play this season has been a bit different to what it was before. The Englishman played on the right of a three-man central defence for England in the World Cup, and he is doing something similar for Manchester City in the current season.
Pep Guardiola has coached the 28-year-old to become a better passer of the ball, which enables him to be more assured in possession whenever he steps into midfield. If we analyse the right-back's game so far, he played as an orthodox full-back in the first-half against Arsenal and switched to a reserve inside channel role in the second half.
It was a similar case against Wolves, when he more or less played as a third centre-back with an option to move forward when required. This allowed Benjamin Mendy to almost play as a left-winger, with Aymeric Laporte covering that area to avoid a counter-attack.
Guardiola is trying to adapt to whatever teams can come up with after watching City for a season. The Spaniard is trying to cut out the channel runs from the opposition strikers on the break by putting two players on either side of the central defender. Hence, for oppositions who are looking to counter City's attack by playing a ball over the top on either channels, won't have it easy.
In addition, Walker has the required pace to match the runs of the attacker. When midfield domination is needed to win second balls, the 28-year-old has now been coached to step into those areas and help Fernandinho to regain possession of the ball as quickly as they can.
He can make underlapping runs to attract an opposition towards him, which can create space for either David Silva or Ilkay Gundogan on the half-turn. The image below depicts the same.
The heat-map above shows Walker's positional play against Wolves. The circled part shows he has acted as a centre-back when needed, can step into midfield and also make underlapping runs for the wingers to pull defenders out of position. The outer half also depicts that he can be a normal full-back, making forward runs in wide areas.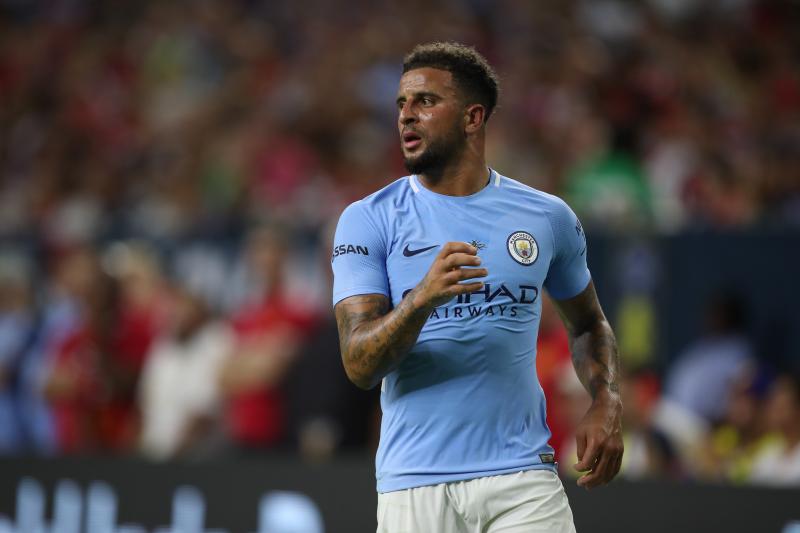 On the whole, Walker, who was bought for £53m, has become more of a complete full-back with equal qualities in either roles. He is 28 now, so in the next three or four years, he ought to be more reserved in his forward movement. Otherwise, recovery runs will take a toll. And currently for Manchester City's narrative, he is helping the team be more secure in possession by being an added body to stop the counters.
Read More: Good job Guardiola – Why Manchester City have done the right thing by blocking a move out for this versatile £8million star
Since the Englishman has pace, passing ability and positional awareness, he can revel in this new role.