Manchester United secured their 2nd win in 9 Premier League games with a hard-fought victory over Tottenham on Sunday evening, successfully closing the gap between them and the top 4 teams to 6 points as a result.
In the keenly contested affair, Henrikh Mkhitaryan's first half goal was enough to separate the 2 sides and hand Jose Mourinho's men the much-needed victory. The Armenian's goal was his 2nd in as many games following his move from Dortmund in the summer.
However, while the 27-year-old's solo goal was very influential in putting all 3 points in the bag for the Red Devils, it was another Manchester United player who performed most brilliantly of the lot to help condemn Tottenham to their 2nd Premier League defeat of the season.
Spanish midfielder Ander Herrera, intercepted Kane's short pass to Eriksen in midfield and quickly teed up Mkhitaryan with a key pass that led to the goal. That was only one of the heroics to come from the 27-year-old, as he went ahead to create 4 other chances – more than any other player on the pitch.
Despite playing in a deep midfield role alongside Carrick, Herrera's attacking instincts couldn't be curbed, as he made attempts at goals, with 4 of all his attempted shots hitting the target – the most of any player on the pitch. He completed 81% of his attempted passes and averaged a pass length of 18 meters.
The Spaniard won 5 out of 10 attempted tackles and completed 4 interceptions. He also wisely broke play up on 3 occasions, and was at the receiving end of the fouls himself, getting committed thrice – 2nd most-fouled victim on the pitch.
It was his strength in the middle of the park that helps supplemented Carrick's brilliant performance, and the duo's partnership might just be exactly what the team needs to stay on track after securing such a crucial win.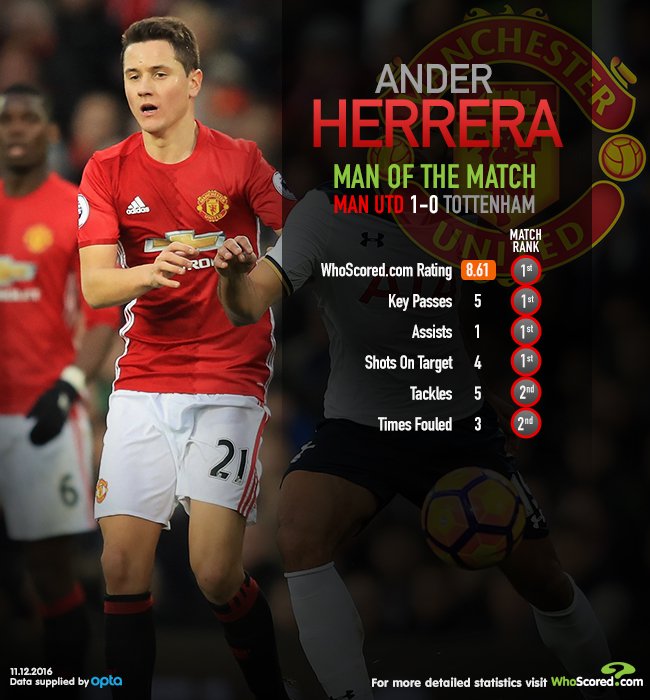 Herrera reduced the efficiencies of Dembele and Eriksen, as the 2 weren't allowed as much breathing space they would have loved by the menacing defensive midfielder. The man-of-the-match performance he produced no doubt played a huge role in allowing the Red Devils win the game.
His importance in Manchester United's midfield since getting his role changed by Mourinho this season has been underappreciated and the team has had to pay heavily for it on one occasion.
Against Stoke City in October at the Old Trafford, with United having seemingly secured a victory with less than 6 minutes to go, Mourinho decided to replace Herrera with Depay. A little less than 2 minutes after his withdrawal, the visitors snatched an equaliser, robbing Manchester United of 2 points.
With Herrera out in that game, their midfield fell apart within a matter of minutes, and it is why he has never been subbed out from all the games he has featured in since, including Sunday's, as this terrific midfielder has proven how important he is to United's solidity in the middle.
Manchester United have only lost a Premier League game in which he started of all his 12 appearances, and he sure will be playing a huge role in their campaign's aspirations this term.
The Tottenham game was just another one of Herrera's many impressive outings of 2016-17, and much more can be expected from this hungry-to-perform midfield ace.