£40m or £70m It Doesn't Matter As Long As Liverpool Sign Any Of These Talented Goalkeepers
The fact that Liverpool are in need of a new goalkeeper is no secret and once the summer window commences, Jurgen Klopp will dive in and try to secure the signing of a new shot-stopper. Until now, they have been aggressively linked with AS Roma's Alisson Becker (Mirror) and Stoke City's Jack Butland (Liverpool Echo). Both the targets are quite young but they have rightfully made a name for themselves with their sensational saves and prolific displays in goal.
Although the Reds have the likes of Simon Mignolet and Loris Karius at hand, Klopp has been quite vocal about bringing in a new recruit, especially with Mignolet's future being uncertain. Ever since the German gaffer dropped the first-choice keeper to play Karius ahead of him, there has been a lot of speculation about the club letting him leave this summer. A series of lacklustre displays from Mignolet have cost him his place in the Liverpool side and so he might be open to the idea of starting afresh at a new club.
Meanwhile, Liverpool have a bigger problem at hand. Both Alisson and Butland seem like viable choices but it is quite tough to compare the two of them based on stats alone. Alisson is a part of an illustrious Roma side that is currently occupying the third spot in the Serie A league standings, whereas Butland plays for a struggling, relegation-threatened Stoke side in the Premier League.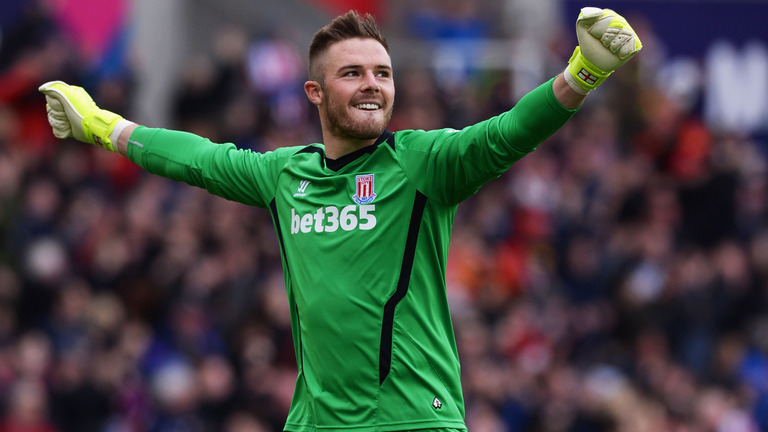 However, if Stoke get relegated by the end of this season, Liverpool could have a better chance of signing him since the player might prefer staying back in the Premier League. In addition to that, moving to a side like Liverpool will also provide him with the opportunity of playing in the Champions League. That said, Butland is yet to prove himself on the big stage but Alisson has already done that for Roma this season and he continues to excel for them.
On paper, Alisson does seem like the better choice but when it comes to the financial aspect of it, Liverpool might have to sign Butland. Make no mistake, Butland is a remarkable talent and boasts of immense potential and the fact that he will be available for £40million (as opposed to Alisson, who might cost them £70million) might just prompt the Reds to sign him ahead of the Roma keeper.
Ultimately, what matters is whether or not Liverpool sign a new goalkeeper and judging their talent, both Butland and Alisson could prove to be solid for the Merseyside outfit.