Liverpool and Jurgen Klopp will be disappointed to have dropped a few points in the last couple of Premier League rounds but the manager will know that his team are on the right track in his first full season in England. The manager had a chance to chop and change his squad in the summer transfer window and Klopp gleefully accepted the opportunity to slash a number of players from the squad to add a few for the challenges ahead. A few players have already made their mark on the squad but one player who has completely changed this Liverpool side is Senegalese winger Sadio Mane.
For the fans of the club, Mane was yet another Southampton player on whom the club were ready to spend record fee on and there were a few groups of supporters who were not really happy that he was the only attacking addition to the squad in the summer. However, all the doubts have soon vanished and in just 16 appearances this season, Mane has scored 8 goals and picked up a further 4 assists, standing as the highest goal scorer for the club in the Premier League.
The 24-year old explosive winger, who earned himself a name as one of the most exciting youngsters in Europe in his time at Salzburg, has now turned out to be one of the most effective players in Europe and his time at Salzburg has a lot to do with it. Roger Schmidt, the manager who gave Mane a chance to prove himself, is one of the few managers in Europe that use the high-intensity pressing game. Mane excelled in such a system early in his career, scoring 8 goals in his first 12 appearances, before securing a move to Southampton. By that time, he had established himself as a winger with raw talent and his time at the St Marys has taught him a number of things about the Premier League.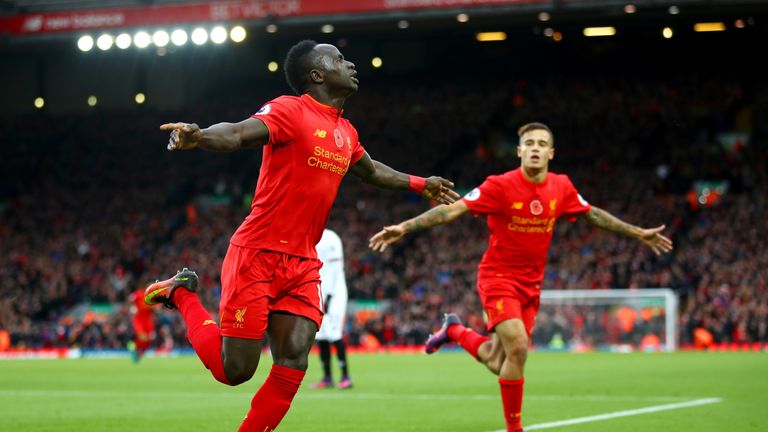 In his two years at the coast with the Saints, Mane helped himself to some influential goals as he took his side to their best ever Premier League finish before being snapped up by Klopp. The German manager has recently revealed that he rued missing out on signing him in his time at Dortmund. It shows that Klopp believes that he fits his style perfectly.
Liverpool were void of any width, with the lack of wingers in the squad last season but that is not the only thing that Mane has added to this Liverpool squad. Having acquired some previous experience of how to operate in a high pressing system, Mane took no time to adjust to Klopp's plans at Anfield and he has become an instant hit at the club. He has fired instant chemistry with the likes of Firmino and Coutinho, and has shown no rigidity in interchanging places and influencing the game from different positions.
His willingness to track back when not in possession and to win back the ball has also helped him be more effective, in turn making Liverpool that much stronger. Klopp likes his players to show some vigour on the field and Mane is not one that backs away. He loves to throw himself around to win the ball back for his side and has learnt pretty well to turn things around into attack. He is growing smart by the game and learning more from the manager and having settled well at Anfield, Mane is surely going to grow on to become one of the most influential players in a system that suits him perfectly.