Three Ideal Premier League destinations for Stoke City's Jack Butland
Stoke City's relegation to Championship football has stirred few of their "big-name" players to target a move to the Premier League. While many clubs have kept close tabs on goalkeeper Jack Butland, no one has made a decisive move for the Englishman.
Potters manager Gary Rowett has warned the Premier League clubs to either bid for the player now or that there won't be any late transfer taking place. It is clear that he doesn't want any deadline day deals to be done, which may disrupt his preparations ahead of an important season for the club.
The English goalkeeper, on his part, has said that he wants to move to the Premier League and he isn't wrong in expecting the same. Butland has done enough to warrant a big move.
Here are three ideal Premier League destinations for the £30m-rated Butland:
Liverpool
Liverpool have bought Brazilian Alisson Becker to sort their goalkeeper issues out. But the No.2 slot is still up for grabs as Simon Mignolet seems destined to leave Anfield and Loris Karius isn't getting any confident ahead of the upcoming season.
So if Klopp wants an established back-up, Butland might be the man. The Englishman has the experience of playing in the Premier League and is capable of handling responsibilities. However, £30m for a back-up would be a bit expensive, nevertheless, he'd be a top signing.
Chelsea
Chelsea have Butland on their target list as they prepare for the departure of Thibaut Courtois. The Belgian has been linked with Real Madrid and the Blues would surely need a quality goalkeeper as replacement.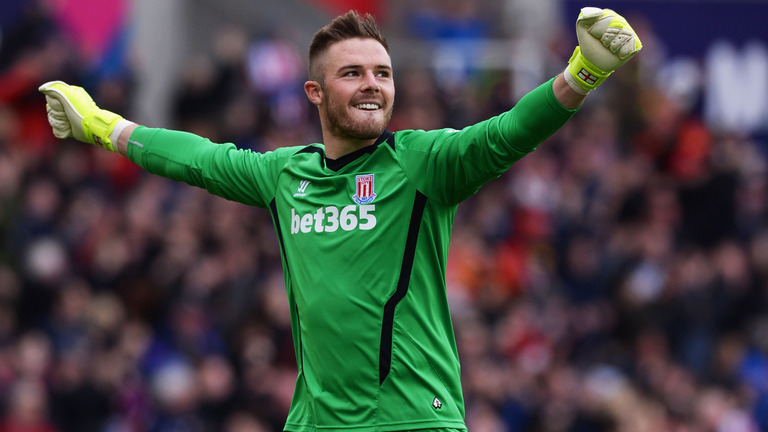 Getting Butland will solve Chelsea's problem and would also fulfill the player's wish. With Euros 2020 coming in two years time, Butland moving to a top Premier League club could be perfect as it would help him challenge Pickford for a starting berth in the England national team.
Both Pickford and Butland went to Russia, with the former getting a chance to impress. But if the latter performs well at Chelsea, Southgate might be a confused man by 2020.
Burnley
Nick Pope severely injured his shoulder in Burnley's game against Aberdeen and with Tom Heaton nursing a calf problem, the Clarets are out of depth in the goalkeeping department. For that reason, bidding for Butland might make sense.
Read More: Nick Pope vs Jack Butland vs Jordan Pickford – Here's who should be England's No.1 based on stats
The Englishman can straightaway take that No.1 role and simultaneously, make it hard for both Pope and Heaton upon their returns from injury. Manager Sean Dyche might need two or three quality goalkeepers in his squad as Burnley get close to playing Europa League football this season.