With just 28 points from 22 games in the Premier League this season, Slaven Bilic's West Ham United are currently in the 10th place in the points table and will have to start winning games if they are to entertain a shot at playing in Europe next season. The manager has been actively looking to add a few players to his squad in January with the current squad hit by a few injuries since the start of the season. This has seen Bilic linked with some influential player and one such player who might be on his way to the capital city is Scott Hogan.
Reports from Sky Sports suggest that West Ham have had up to three bids rejected so far this month but Bilic is desperate to get him to the club and is ready to meet his valuation before the deadline day. But who is this new name on the radar of the Hammers? Here is everything you need to know about Scott Hogan, the latest target for the Hammers:
Here is everything you need to know about Scott Hogan, the latest target for the Hammers:
Born and brought up in greater Manchester, the 24-year old started his youth career at Rochdale as a youngster and has ever since played in a host of clubs in the English domestic circuit. He came back into the spotlight in the 2013-14 season when he moved back to Rochdale to score 17 goals in 33 domestic games for the side.
He then earned himself a move to Brentford, where he has 21 goals to his name in 33 games. He is yet to get a chance to play for England and will have to prove himself in the Premier League to earn himself a call up for the national squad.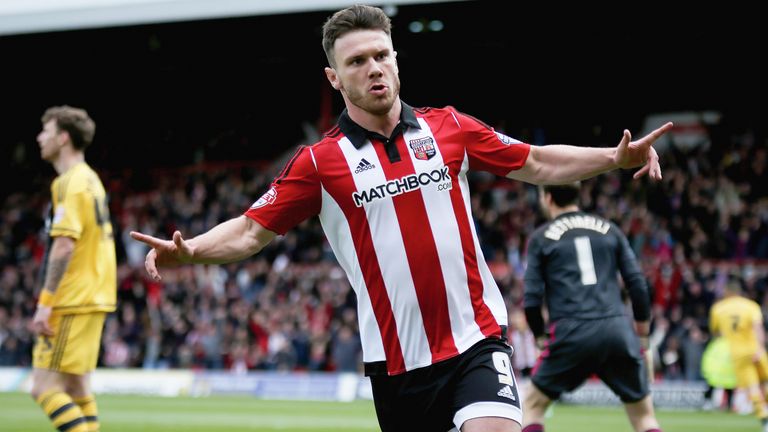 A centre-forward by trait, the 24-year old is equally adept at playing on either wing in the final third and is one of the most versatile players around in the domestic circuit in England. He is also one of the best finishers around as his positioning in the final third and his eye for goal are commendable. He has decent technique on the ball at his feet and is a smart player who understands the game pretty well. He tries to be pro-active, reading the minds of the defenders and is a player who is not easy to defend.
He is not a great passer of the ball but is a player who loves to get involved in the build up by dropping deep when needed. He is destructive if given any space and time on the ball and even though he is not skilful, he makes it hard for opponents to close him down. He loves to take the ball at his feet and commit defenders, finding himself pockets of space in dangerous areas. He can score goals from different ranges and angles and if his team is set up to feed him the ball regularly, he can be a beast in front of the goal.
However, he is not the strongest players around and is a liability in the air. The physical challenges of the Premier League will surely take their toll on the player which might hamper his progress. He is also not one to run back 60 yards to help his team out defensively. He is a liability under pressure but at his age, he has enough time to learn the trade and become a far better player than he already is.
West Ham have the likes of Andre Ayew and Andy Carroll in their ranks this season and will need another addition to keep them going until the end of the season. They have looked at a number of names including Marcus Rashford from Manchester United and Michy Batshuayi from Chelsea but Scott Hogan seems to be a more than a decent option for the Hammers this month.