Arsenal fans will be pleased with their manager after he started his summer shopping rather early with the purchase of Swiss midfielder Granit Xhaka. The Gunners were lucky to finish second on the table after their North London rivals capitulated on the final of the season. There are still massive gaps which need to be filled, if Arsenal are going to challenge for the title, they last won in 2004 with the invincibles. A number of players will need to find a new club inorder to make space for the ones coming in. Therefore Wenger's main work this summer will be choosing to retain and who to let go. The manager will be in the market for players suited from the back to the front, therefore no one is safe from the axe except a few stand out performers from last season.
Ins
Medhi Benatia
With Bayern Munich having already raided Borussia Dortmund for the services of star defender Mats Hummels, centre-back Mehdi Benatia could be forced to leave the Allianz Arena after falling further down the pecking order. Having featured only 14 times for the German outfit last season, Benatia will be open for a move to another club this summer. Central defence is one position which needs immediate strengthening  after Per Mertesacker's inconsistent performance last season, Gabriel failing to take his chances and Calum Chambers playing a bit-part utility role. Therefore Benatia could be an ideal fit for the Gunners given his defensive abilities and agility.
Gonzalo Higuain
Arsenal fans will still be feeling frustrated at failing to secure the services of Higuain in 2013, when Napoli arrived late and stole the Argentine from under their noses. The Gunners are in a desperate need for a striker, given how inconsistent Giroud has been last season and no able deputies to fill his roll. A renowned goalscorer wherever he goes, Higuain has just had the season of his life with 36 league goals in 35 games.
Outs
Joel Campbell
Injuries forced Arsene Wenger to draft Campbell into the starting XI, however the Costa Rican didn't disappoint and showed glimpses of his tremendous work rate and technical ability. But for whatever reason the manager doesn't seem to be interested in Campbell much. The 23 year old is highly talented and did well whenever he got his chance but was often dropped in favour of below par Theo Walcott. Looking at how Wenger behaved when he could have easily gone with Campbell, suggests that he would be more then interested in off loading the winger if the opportunity arrives.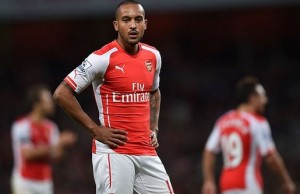 Thea Walcott
Walcott just completed 10 years at the club but unfortunately for him he doesn't seem to have improved much from the time he arrived at the Emirates. He started the season brightly, showing promise upfront and replacing Giroud in the starting XI. However his form started to dip after the New Year which saw him making very few starts for the club and appearing mostly as an impact Substitution. With best year still ahead of him, one feels the time is right for him and the club to part ways.