Jurgen's Klopp have been a lot of things this season. One could very well run out of adjectives to describe the sort of performances that Liverpool have been putting in off late. Many things could be attributed to Liverpool's successes this season and Klopp's methods are certainly something that all Liverpool players have taken a shine to. Coutinho, Mane and Lallana are 3 players that have improved leaps and bounds under Klopp. Mane, who was brought in this season from Southampton has put his best foot forward and Klopp has given all of them the belief and confidence to flourish and put in attacking performances of the very highest order. They have been free-scoring and currently are leading the Premier League table.
Liverpool have had several emphatic victories this season, the most recent of them coming in the form of a 6-1 mauling of Watford, who simply didn't have the answers to the questions posed by the Liverpool attackers, who were in top form. Adam Lallana (rated at €28.3m by the CIES Football Observatory) as usual, was impeccable as he had a hand in 2 of the goals scored by Liverpool. That's the second time this season he has accumulated 2 assists in a game. He is the only player to have achieved that feat so far this season. That is quite a telling fact and shows us a lot about his importance to this Liverpool side.
2 – Adam Lallana is the only player to have assisted twice in a @premierleague game on more than one occasion this season (2). Effervescent. pic.twitter.com/BW9y9KqWFT

— OptaJoe (@OptaJoe) November 6, 2016
Adam Lallana signed for Liverpool following the 2014 World Cup in Brazil. An early England exit from the tournament ensured that Lallana would sign for Liverpool sooner than he expected. He's had 2 years at  Liverpool now and has made some decent contributions. But never had he established himself as an indispensable to the team, like he has now. Klopp has managed to get the best out of Lallana in a position which allows him to have an influence on the game as well as showcase his skill as a willing runner that covers every inch of grass with his impressive work-rate.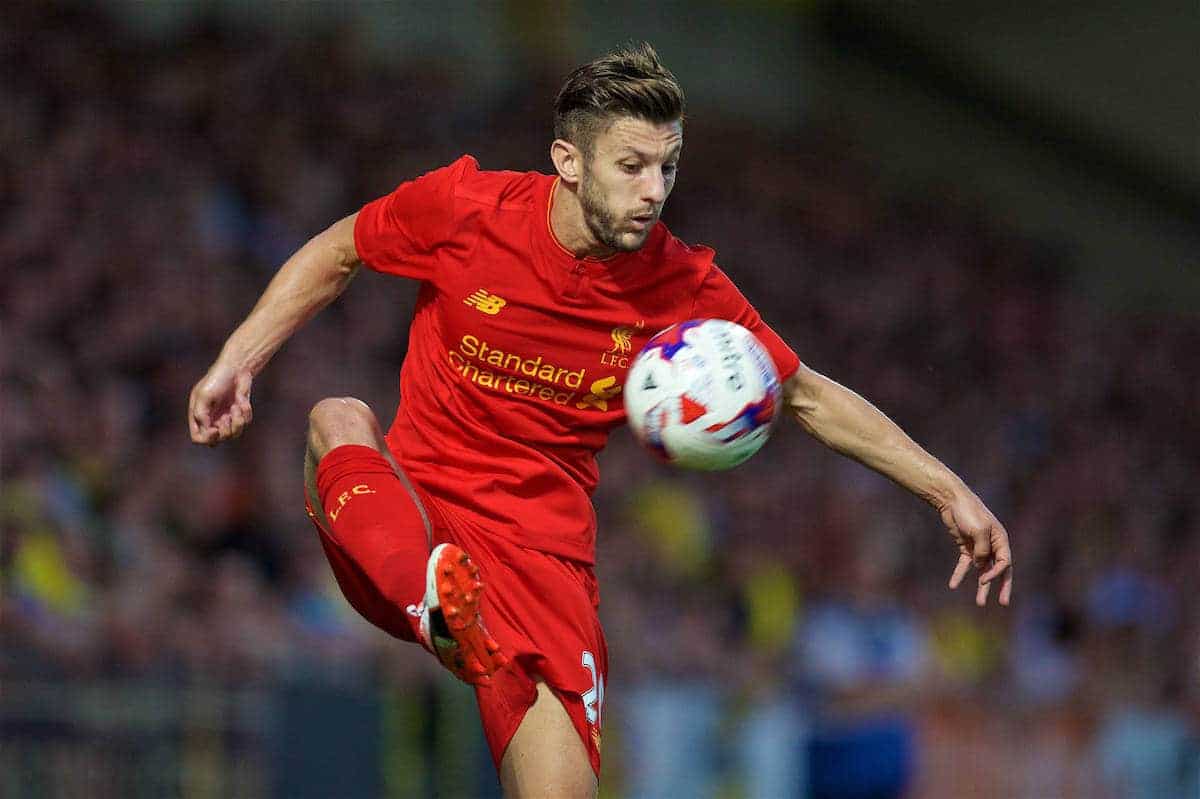 He has also added more goals to his game this season as he has already racked up 3 goals in just 11 games. The midfielder had previously accumulated 5 goals in 27 games and 4 goals in 30 games in his previous two seasons at Anfield. The difference from the previous seasons is that he is now willing to make runs into the box and offer himself as an option that could be picked out.
So if stats and recent performances are to go by, it can be established that Lallana is equally, if not more important that Phillipe Coutinho and Sadio Mane to Liverpool's success this term. Coutinho has been outstanding and Mane has been scintillating in his debut season at Anfield, but it is Lallana that stitches the team together and gives a real balance to the attacking side of things. Ever since the departure of Steven Gerrard, Liverpool have lacked a proper presence in midfield. And 'presence' doesn't necessarily refer to physical prowess. It is in fact the mental side of things.  Lallana is finally making a big name for himself and is establishing himself as a vital cog in the wheel that is, Liverpool.
That he has already amassed a total of 5 assists and that shows that he's on top of his game. Lallana averages 41.3 passes per game. He also averages 1.2 key pass(es) every game, thus he is of utmost importance to the Liverpool side and could be as influential as Coutinho, Mane or Firmino come the end of the season. Liverpool's lack of genuine squad depth in the midfield region also means that there will be a lot of burden on the shoulders of Lallana, Can, Henderson and Wijnaldum to perform. And so far, they've done their bit.