Arsenal's Premier League campaign ended on a high note when they picked up a 3-1 win away at Burnley on Sunday afternoon. However, it was not enough to secure Champions League qualification, as they finished the campaign in fifth place, just a single point behind rivals Tottenham. The Gunners took just a single point from their previous four matches and that disastrous run of form cost them dearly in the battle for a top four spot. Yet Unai Emery's first season at the helm of the club must still be viewed as a strong step in the right direction for these five reasons:
An Improved Points Haul
Emery stepped into some of the biggest shoes in world football when he replaced Arsene Wenger as Arsenal manager ahead of the 2018/19 campaign. The Frenchman secured three Premier League titles and seven FA Cups during his 22-year reign, but he left the club in a sorry state. Arsenal finished the 2017/18 season with just 63 points, their lowest tally since the days of Bruce Rioch in 1996. Wenger left a weak squad littered with a number of poor players and Emery was never going to be able to turn it around at the drop of a hat.
Chaos reigned off the field in the wake of Wenger's autocratic tenure and a new team of executives jostled for position. Arsenal ended up making some intriguing signings, but they invested less on their squad than Fulham, Leicester, West Ham and Everton, while Liverpool outspent them by a cool £100 million. To plug gaps in the squad, Arsenal had to sign the ageing Stephan Lichsteiner on a free transfer and look to teenager Matteo Guendouzi to bolster the squad. Emery was still lumbered with mediocre players like Shkodran Mustafi, Alex Iwobi, Ainsley Maitland-Niles and Granit Xhaka, and you are never going to win the league with them.
Chief executive Ivan Gazidis, the man who recruited Emery, promptly left for AC Milan. Sven Mislintat, the feted head of recruitment tasked with improving the squad, followed him out the door, while Monchi made an 11th hour about face and decided not to take the technical director role, heading back to Sevilla instead.
Yet Arsenal ended the campaign with 70 points, seven more than they managed last season. They finished one place higher and they were a lot closer to the top four this time around. Their away form improved and for the majority of the season The Emirates was a fortress. Emery has achieved progress despite having limited resources to work with, and there is every reason to think that the Gunners could kick on again next season if more of the deadwood is cleared out and the club brings in more players in the Emery mould: hardworking, tactically disciplined stars like Lucas Torreira.
A European Final to Look Forward to
Arsenal could yet return to next season's Champions League if they manage to beat Chelsea in the Europa League final. They have grown in stature during the knockout stages of this tournament, and they did extremely well to beat both Napoli and Valencia home and away. Emery won this competition three years in a row while he was manager at Sevilla and he continues to enjoy a remarkable record in it. There have been a few bumps in the road – surprise away defeats to Rennes and BATE Borisov failed induced groans among the Arsenal faithful – but Emery has always found a way to turn things around.
The Gunners are clear underdogs among the bookmakers to win the Europa League, as shown here. However, they were even larger outsiders when they last faced Chelsea in a cup final and they ended up securing a stirring 2-1 victory against a team that had just romped to the Premier League title. Since then the Blues have taken several steps backwards, and Arsenal look more polished now than they did in 2017. They suffered a disappointing 3-2 defeat at Stamford Bridge in just the second game of Emery's reign, but they swept Chelsea aside in a 2-0 victory at The Emirates in January and that should give them confidence. Arsenal fans should be happier with Emery than Chelsea supporters are with Maurizio Sarri, and the Spaniard has the ability to outfox his Italian counterpart in Baku on May 29.
Strong North London Derby Performances
Arsenal's decay during late Wengerdom coincided with Tottenham's rise to prominence under Mauricio Pochettino.
Gooners were unable to celebrate St Totteringham's Day for the first season in two decades in 2017, and it was painful for fans to watch Spurs assemble an exciting young team while Arsenal meandered. Yet this season saw the Gunners take four points off Spurs and totally dominate both meetings between the clubs.
Emery's men delivered a stirring performance at The Emirates in December as they surged to a 4-2 triumph. Pierre-Emerick Aubameyang fired in a thunderous equaliser in the 56th minute and then two goals in three minutes from Alexandre Lacazette and Torreira led Arsenal to a fine victory. They enjoyed 60% of the possession and looked brighter, hungrier and more technically adroit throughout.
The second meeting of the season finished 1-1 at Wembley, but Arsenal can feel aggrieved by the result. Aaron Ramsey put them 1-0 up and they looked to be cruising to victory, only for Harry Kane to be awarded a penalty while in an offside position and fire in the equaliser. Aubameyang missed a penalty at the death and Spurs nicked a point, but Arsenal were very much in the ascendancy in North London derbies this season.
Tactical Flexibility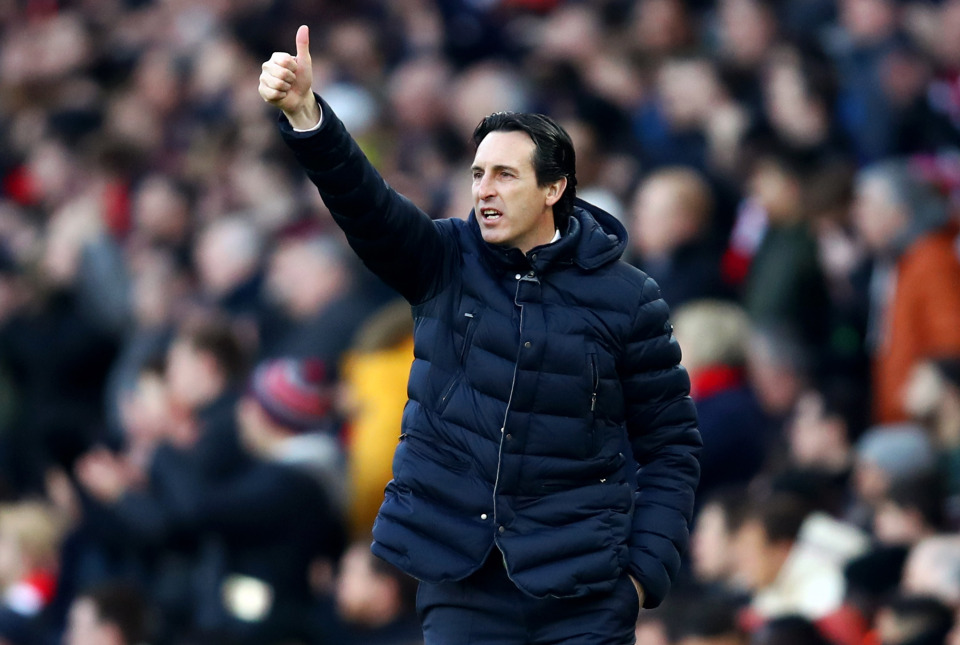 One major criticism of Wenger as things went sour in the second half of his tenure was his inflexibility. He would regularly set his team up in the same fashion, regardless of the opponent. He rarely made changes at half-time, even when things were going disastrously. Emery has been a comparative breath of fresh air in that department. He often makes bold substitutions early on in games if things are not going Arsenal's way, and he has frequently been rewarded.
Arsenal had a better second-half record than Chelsea, Tottenham and Man Utd this season, and that is largely a result of Emery's intuitive substitutions. He is also prepared to tinker with his formation during a game if he spots something awry. He has experimented with a number of different formations this season, but that is largely due to injuries and the personnel at his disposal. He now appears to have settled on a strike partnership of Lacazette and Aubameyang in big games and that duo can fire Arsenal to glory in Baku later this month.
A Clear Game Plan
After years of stagnation and ennui, Arsenal finally appear to have a sense of direction under Emery. He has a structured, regimented approach to individual matches and to building a team. He demands high intensity off the ball and he was not afraid to drop Mesut Ozil for large parts of the season after deciding the mercurial German was not pulling his weight. It is clear that Emery has little time for players that are unwilling to put in a shift, and that should see the club sign more tenacious players going forwards.
There are obvious hurdles that still must be overcome. Defensively the Gunners remain frail, their soft underbelly was evident as they lost four of their last seven games of the campaign and they still struggle on the road. But it is hard to blame for the large amount of individual errors committed by Mustafi, Lichtsteiner, Maitland-Niles and Xhaka this season. He inherited the weakest squad of any team in the Premier League's so-called Big Six and he was hamstrung by a lack of backing in the transfer market. Yet he still made Arsenal competitive throughout the season.
For many years, they could not pick up victories over their direct rivals, but this season Arsenal beat Spurs, Chelsea and Man Utd. But for a mistake from Bernd Leno, they would have beaten Liverpool at The Emirates. It is great to finally have a manager that displays energy, dynamism and passion on the sidelines, and fans calling for his head after a recent draw with Brighton were prematurely mutinous. Who would go to Arsenal right now and do a markedly better job? Emery won 32 of his first 50 games in charge, while Wenger could only manage 23, while George Graham and Herbert Chapman won 27. He has taken the club forward this season and he deserves more time to close the gap on the teams above in 2019/20.